There are two types of projects that happen in our house: ones my husband does by himself and ones that I do by myself. Rob and I have many strengths as a couple, but tag-teaming home projects is definitely not one of them. So, while he finishes up building our (amazing) new short, modern fence from scratch, I'm cooking up my plan for updating old brass hardware and knobs throughout the entire house.
Our house was built in the mid-80's and while many of the telltale "features" of the era have been smartly redone, there are still some left that drive us crazy. The door knobs and hardware are at the top of the list. They are shiny brass and totally past their prime. They aren't anywhere near the trendy brushed brass look that is currently hot at the moment.
If you've ever priced out door hardware you know that even buying off-the-shelf from Home Depot isn't cheap, particularly when you need to buy hardware for an entire house worth of doors. That's why I've come up with a plan that will *hopefully* get us a brand new look at a fraction of the cost. What's that?
We're going to refinish 90% of the door hardware in the house.
I've been slowly accumulating a bevy of inspiration posts on the subject, including these "best of" examples: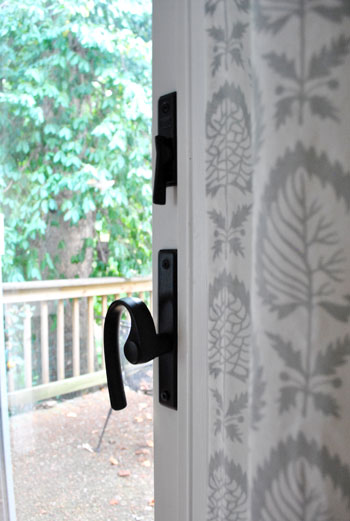 Turns out, there are a few different products (Rustoleom sprays are used most frequently) that can allow you to freshen up door hardware with relative ease. The project itself, however, is no small order. The people in the posts above redid a few knobs or handles — we are redoing an entire house worth of hardware. It's going to take a lot of time and patience. I'll be sure to post when we get started and along the way. Needless to say we'll start with more "hidden" locations first so that we can learn from our mistakes.
So, what about the other 10% of the hardware? Well, those I'm going to splurge on. These are the handles in highly visible parts of the house, such as the doors leading to the sunroom. For these, I'm looking for a "wow factor." Here are some I've found so far from MyKnobs.com:
While we're definitely splurging for visible locations (such as our sunroom doors), some of the hardware we'll be replacing outright is to get rid of dummy hardware. It drives me mad to have knobs and handles that don't actually move and I'm getting rid of those on doors that we use frequently.
There you have it. The daunting task currently at hand. I really hope to have them all done in the next six months. I know that sounds like a lot of time, but with this being done mostly on the odd night or weekend, I think the time is going to fly by. Anyone have experience with a similar project?
---
Love this post? Pin this image to your favorite DIY board so you never lose the link!